On December 11, 2021, the "Vesa technology" cup badminton competition hosted by the trade union committee of the drainage company and sponsored by Hunan vesa Technology Co., Ltd. ended perfectly.
排水公司总支书记、总经理彭铮、维尚科技公司总经理柴神洲受邀参加了活动,来自双方公司30余名员工共同参与了本次比赛。比赛开始前,柴神洲表示"很开心与水务集团排水公司的同志们共同参加本次活动,希望大家快乐生活、快乐工作",为整场比赛奠定了"快乐第一,比赛第二"的友谊赛基调。
Peng Zheng, general branch secretary and general manager of the drainage company, and Chai Shenzhou, general manager of Vesa technology company, were invited to participate in the event. More than 30 employees from both companies participated in the competition. Before the competition, Chai Shenzhou said that he was "very happy to participate in this activity with the comrades of the drainage company of the water group, and I hope everyone can live and work happily", which laid the tone of the friendly competition of "happiness first and competition second" for the whole competition.

比赛采取"无羽伦比"赛制,所有参赛人员被平均编入"精英组"和"威武组"两组,由组队长合理匹配、精心布阵,每局派出两名队员出战,双打对决,累积全队最终比分,决出胜负。活动不仅体现了球员的技术技巧,也考验了团队排兵布阵、团结协作的能力。
The competition adopts the "no feather Lun ratio" competition system. All participants are evenly divided into the "elite group" and the "powerful group". The group leader reasonably matches and carefully arranges the array. Two players are sent to fight in each game, and the doubles duel is conducted to accumulate the final score of the whole team to determine the victory or defeat. The activity not only reflected the players' technical skills, but also tested the team's ability to arrange troops and arrange arrays, unity and cooperation.
赛场上,选手们精神饱满,热情洋溢,既有经验老道的老将们的默契配合,也有年轻小将们的全力"拼杀"。场内,上前拦网、大力扣球、轻盈吊球、后场回防,选手们奋勇拼搏。场外,观众们时而欢呼雀跃,时而紧扣心弦,加油声、欢呼声,不绝于耳。经过精彩角逐,最终"精英组"荣获冠军。
On the field, the players are full of energy and enthusiasm, not only the tacit cooperation of experienced and experienced veterans, but also the full "fight" of young players. Inside the court, the players fought bravely by blocking in front, smashing vigorously, hanging the ball lightly and defending back in the back court. Outside, the audience cheered and cheered sometimes, and sometimes closed their hearts. Cheers and cheers were heard all the time. After wonderful competition, the "elite group" won the championship.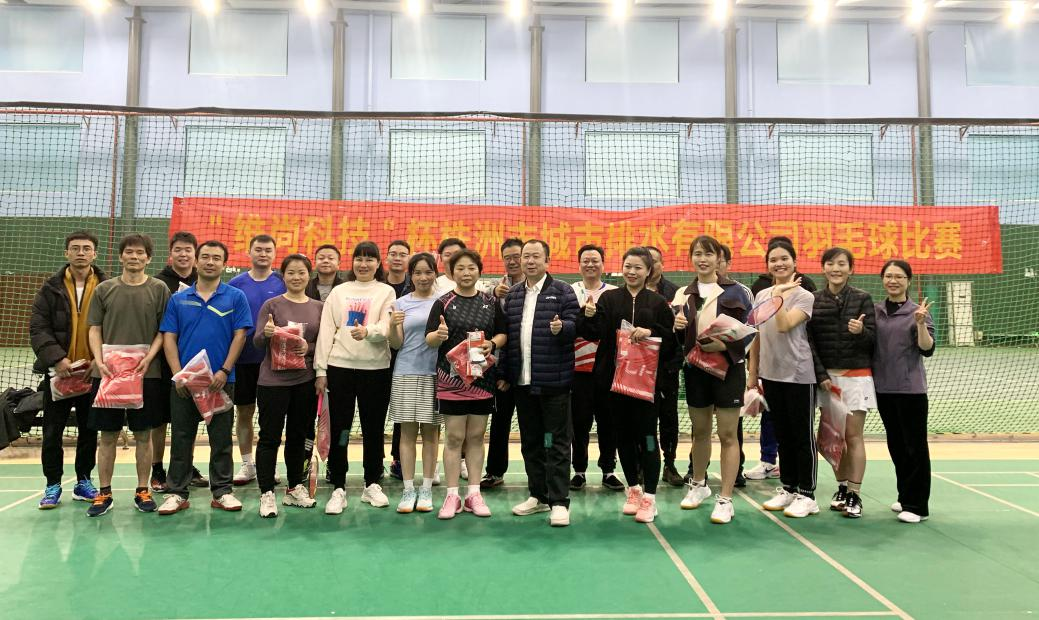 健康向上的体育生活是丰富职工文化生活的重要部分。本次联谊活动为员工搭建了交流展示、拓展兴趣、建立友谊的平台,向员工传递了快乐生活、快乐工作的健康理念,有效促进企业文化和谐发展。
Healthy and upward sports life is an important part of enriching employees' cultural life. This friendship activity built a platform for employees to exchange and display, expand interests and establish friendship, passed the health concept of happy life and happy work to employees, and effectively promoted the harmonious development of corporate culture.